Please click on a picture to view GWO Training Greenock courses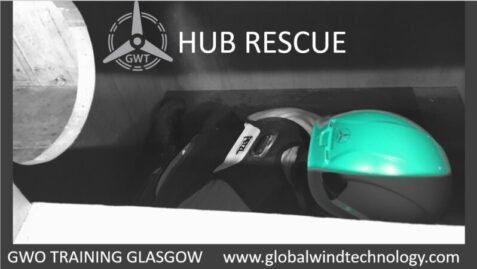 GWO Training Greenock
As people become more aware of the dangers of using fossil fuels, there is more
emphasis on the benefits of renewable energy, something that the Global Wind
Organisation (GWO) is a key part of. In order to make sure that people can
operate safely offshore, it is important to be properly trained which is why we
offer a number of GWO Training Greenock courses.
What does the training involve?
Basic Safety Training (BST) GWO training covers five modules, all of which
prepare people for working offshore. Working at height is an important one, due
to the fact you will often be expected to do repair work at height and knowing
how to work in these conditions is crucial.
While people are often cautious about working with height, it is easy to forget
that injuries can often occur when people do not use equipment properly or lift
heavy boxes incorrectly, which is why there is also a module in manual lifting.
Fire awareness is important in any environment. You need to know what could
potentially cause a fire, recognising potential hazards and how to evacuate
people if a blaze can't be controlled, as knowing where the emergency exits are
and how to get people safely through them during a blaze offshore can be crucial
to everyone's survival.
Sea survival looks at potential situations such as recognising when someone is
drowning, suffering from hypothermia or what to do when someone goes
overboard. It also includes vessel transfer to a wind turbine. This takes place in
at an indoor and outdoor site in order to recreate the conditions as closely as
possible. Finally first aid is important so that you can protect yourself and others
in the event of any injuries, both minor and severe.
If you have previously worked offshore or want to hone your skills then GWO
Training Greenock can provide refresher courses in all of the modules listed
above (the basic package also comes with Free Enhanced First Aid (EFA)or Hub
Rescue modules.)
PPE inspection
As well as the basic module, GWO Training Greenock also offers PPE inspection
courses. This one day course allows you to recognise when PPE equipment is
faulty, delivered by certified trainers who will award certification at the end of
the course.
On top of checking that your equipment is safe, there is also the added benefit
of being able to know when to take back and get faulty equipment replaced,
saving your company money in the long term.
If you do not wish for the course but still want your PPE to be checked over, we
can also offer inspection services.
Medicals
Another aspect of preparing people to work offshore is ensuring that they are
physically ready for the demands ahead of them. With our partners we can offer
medicals via a simple four step booking system with dates and times available to
suit you.
Talk to us
To find out more about our range of GWO Training Greenock courses and how
they can benefit your offshore business please contact us today and we will
happy to discuss this with you in more detail.